In Loving Memory of Happy Zhang
Hualian "Happy" Zhang was the former IMC co-chair of SEA-ME-WE 5. On March 8th, 2014, immediately after the SMW5 signing ceremony, Happy boarded the ill-fated Malaysia Airlines Flight 370 (MH370) which was lost over the Southern India Ocean. On January 19, 2015, the Malaysian government officially declared the disappearance of MH370 an accident and announced that there were no survivors, which marked the very sad ending of this tragic accident.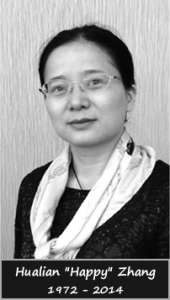 1993.09-1996.04 Masters -South China University of Technology
1996.04-1999.09 Engineer -Software Center of Ministry of P&T
1999.09-2000.05 Engineer -Chief Engineer Office of DGT
2000.05-2002.04 Engineer/Manager -Int'l Department, China Telecom
2002.04-2012.08 Director -Overseas Development Department, China Telecom
2012.08-2014.03 Vice President -Network I Department, China Telecom Global Ltd.
Happy Zhang had devoted herself to the telecommunication industry for almost twenty years. As the Vice President of CTG, Happy was responsible for the network planning and construction, which was one of the core and busiest functions of the company. The heavy workload never reduced her passion for the network world. The colleagues remembered how late she stayed in the office for proposing a network constructing plan. The partners remembered how passionate she was when talking about the network cooperation opportunities. The industry peers remembered her diligent and energetic figure that is always willing to work in the front line. On her way to the airport on March 7th, 2014, Happy was still thinking about SEA-ME-WE 5. Right before boarding, Happy finished editing the SEA-ME-WE 5 news release and sent out the last words to colleague: "SEA-ME-WE 5 is an important submarine cable for CTG to connect South East Asia, Middle East and Western Europe. Combined with the existing submarine resources of CTG, it can provide high speed, high capacity and high security channel from Asia-Pacific to Europe".
Days have passed and we haven't stopped our praying for Happy. We cannot forget the happy memories with her, as well as her achievements for the company and the telecommunication industry. Our continuous effort on her work is the best way of remembering Happy Zhang. With this page, we wish that Happy may stay with her deeply loved submarine world forever.
If you have a picture of Happy that you'd like to add to this page, please let us know.
.